---
Amitav Ghosh ~ [Ibis Trilogy 02] - River Of Smoke *** 1838 a storm blows up on the Indian Ocean and the Ibis, a ship carrying convicts to Mauritius. (Size: 633.9 MB)
| | | | |
| --- | --- | --- | --- |
| | | 001_Part1_Chapter1a_River_of_Smoke.mp3 | 12.44 MB |
| | | 002_Part1_Chapter1b_River_of_Smoke.mp3 | 8.78 MB |
| | | 003_Part1_Chapter2a_River_of_Smoke.mp3 | 8.4 MB |
| | | 004_Part1_Chapter2b_River_of_Smoke.mp3 | 12.27 MB |
| | | 005_Part1_Chapter2c_River_of_Smoke.mp3 | 13.74 MB |
| | | 006_Part1_Chapter2d_River_of_Smoke.mp3 | 14.16 MB |
| | | 007_Part1_Chapter3a_River_of_Smoke.mp3 | 12.17 MB |
| | | 008_Part1_Chapter3b_River_of_Smoke.mp3 | 13.87 MB |
| | | 009_Part1_Chapter3c_River_of_Smoke.mp3 | 13.68 MB |
| | | 010_Part1_Chapter4a_River_of_Smoke.mp3 | 11.81 MB |
| | | 011_Part1_Chapter4b_River_of_Smoke.mp3 | 10.98 MB |
| | | 012_Part1_Chapter4c_River_of_Smoke.mp3 | 8.46 MB |
| | | 013_Part1_Chapter5a_River_of_Smoke.mp3 | 7.82 MB |
| | | 014_Part1_Chapter5b_River_of_Smoke.mp3 | 12.87 MB |
| | | 015_Part1_Chapter5c_River_of_Smoke.mp3 | 9.64 MB |
| | | 016_Part1_Chapter6a_River_of_Smoke.mp3 | 12.28 MB |
| | | 017_Part1_Chapter6b_River_of_Smoke.mp3 | 8.09 MB |
| | | 018_Part1_Chapter6c_River_of_Smoke.mp3 | 13.72 MB |
| | | 019_Part2_Chapter7a_River_of_Smoke.mp3 | 8.42 MB |
| | | 020_Part2_Chapter7b_River_of_Smoke.mp3 | 12.82 MB |
| | | 021_Part2_Chapter7c_River_of_Smoke.mp3 | 11.94 MB |
| | | 022_Part2_Chapter8a_River_of_Smoke.mp3 | 8.34 MB |
| | | 023_Part2_Chapter8b_River_of_Smoke.mp3 | 12.81 MB |
| | | 024_Part2_Chapter8c_River_of_Smoke.mp3 | 14.15 MB |
| | | 025_Part2_Chapter8d_River_of_Smoke.mp3 | 12.6 MB |
| | | 026_Part2_Chapter9a_River_of_Smoke.mp3 | 11.91 MB |
| | | 027_Part2_Chapter9b_River_of_Smoke.mp3 | 13.21 MB |
| | | 028_Part2_Chapter9c_River_of_Smoke.mp3 | 10.79 MB |
| | | 029_Part2_Chapter10a_River_of_Smoke.mp3 | 9.51 MB |
| | | 030_Part2_Chapter10b_River_of_Smoke.mp3 | 12.61 MB |
Description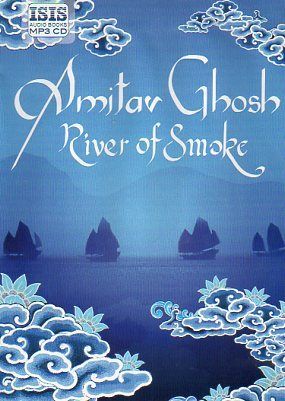 If you would like to see other Audio Books I have uploaded just click this link:-
OldScotsman's Books
If you have a request for another book or a Re-Seed then just send me a Private Message
General Information


Book:.....................River Of Smoke
Series Name:........Ibis Trilogy
Series No:.............02
Author:..................Amitav Ghosh
Narrator:...............Lyndam Gregory
Abr/Unabr:............Unabridged
Genre:...................Historical Fiction
Publisher:..............Isis Audio
ISBN......................9781 4450 1478



File Information


Source:.................1 MP3 CD
# of MP3 files:......56 Chapterised Files
Encoder:................Fraunhofer [FhG] (Guess)
Converted To:.......64 Kb | CBR | 44,100 Hz | Mono
Total Runtime:......20 Hours 10 Minutes
Total Size:.............634 MB
Date Converted:...26-June-2015
Converted By:.......OldScotsman
ID3 Tags:..............Includes Image and all info shown on this page (Smart Phone Ready)
If you would like to try another Amitav Ghosh Audio Book I have uploaded, just click the title below.
Ibis Trilogy 01 - Sea Of Poppies
Ibis Trilogy 02 - River Of Smoke
Ibis Trilogy 03 - Flood Of Fire
ABOUT THE BOOK
In September 1838 a storm blows up on the Indian Ocean and the Ibis, a ship carrying a consignment of convicts and indentured laborers from Calcutta to Mauritius, is caught up in the whirlwind. On the grand scale of an historical epic, River of Smoke follows its storm-tossed characters to the crowded harbours of China. There, despite efforts to stop them, ships from Europe and India exchange their cargoes of opium for boxes of tea, silk, porcelain and silver. Among them are opium merchant Bahram Modi, his estranged half-Chinese son Ah Fatt, the orphaned Paulette and a motley collection of others. All struggle to cope with their losses - and for some, unimaginable freedoms – in 19th century Canton.
ABOUT THE AUTHOR
Amitav Ghosh was born in Calcutta in 1956. He studied in Dehra Dun, New Delhi, Alexandria and Oxford and his first job was at the Indian Express newspaper in New Delhi. He earned a doctorate at Oxford before he wrote his first novel, which was published in 1986.
Amitav Ghosh is one of India's best-known writers. His books include The Circle of Reason, The Shadow Lines, In An Antique Land, Dancing in Cambodia, The Calcutta Chromosome, The Glass Palace, Incendiary Circumstances, The Hungry Tide. His most recent novel, Sea of Poppies, is the first volume of the Ibis Trilogy.
The Circle of Reason won the Prix Medicis Etranger, one of France's top literary awards, and The Shadow Lines won the Sahitya Akademi Award and the Ananda Puraskar. The Calcutta Chromosome won the Arthur C. Clarke Award for 1997 and The Glass Palace won the Grand Prize for Fiction at the Frankfurt International e-Book Awards in 2001. The Hungry Tide won the Hutch Crossword Book Prize in 2006. In 2007 Amitav Ghosh was awarded the Grinzane Cavour Prize in Turin, Italy. Amitav Ghosh has written for many publications, including the Hindu, The New Yorker and Granta, and he has served on the juries of several international film festivals, including Locarno and Venice. He has taught at many universities in India and the USA, including Delhi University, Columbia, the City University of New York and Harvard. He no longer teaches and is currently writing the next volume of the Ibis Trilogy.
He is married to the writer, Deborah Baker, and has two children, Lila and Nayan. He divides his time between Kolkata, Goa and Brooklyn.

ABOUT THE READER
Lyndam Gregory (1955 – 2014) was an Indian-born British theatre, television, soap opera, and voiceover actor. His best known credits include his portrayal of Sammy Patel on Coronation Street in 1983, his recurring role as Guppy Sharma on EastEnders from 1995 to 1996, and Ashkok in The Archers. Gregory also played Dr. Simon Field on ITV television series, Surgical Spirit, for 23 episodes from 1989 to 1992.
Gregory was born in Darjeeling, West Bengal, India. His father, Neville, was a tea planter, while his mother, Marina, who was originally from Burma, was a local schoolteacher. Gregory and his family moved to London during the early 1960s.
He later studied at the Webber Douglas Academy of Dramatic Art. His first professional acting role was in a production of "The Blue Monster", performed at the Arts Theatre in London. His first television role was an episode of Rumpole of the Bailey as Latif Khan in 1979.
Gregory became best known for his work on British soap operas, including his recurring role as businessman Guppy Sharma on EastEnders during the mid-1990s. According to his wife, Gregory especially enjoyed working on EastEnders because Elstree Studios, where the show was filmed, was the site of numerous, classic film productions.
Lyndam Gregory died from lung cancer on July 15, 2014, at the age of 59.
All the above information including the picture are inserted into the ID3 tags on the MP3 files.
Remember, we have uploaded these books just for you because we wish to SHARE them. It is only right therefore, you SHARE them with others, and the only way you can do this, is to keep SEEDING. In other words, don't stop after you have finished the download. Check and make sure your torrent program is set to continue uploading even after the downloading has been completed. A ratio of 2.0 means you are giving back twice what you have received, the book won't die and all our efforts have not been wasted but 5.0 would be outstanding and shows you have really entered into the spirit of what we are about. WE DO OUR BIT AND YOU DO YOUR BIT, sounds fair, doesn't it. If you are new to this and don't understand, type a message at the bottom and if I can't help, I know someone who can.
This Audiobook was converted and uploaded by OldScotsman
Related Torrents
| torrent name | size | seed | leech |
| --- | --- | --- | --- |
| | 1.38 GB | 0 | 0 |
Sharing Widget