---
Description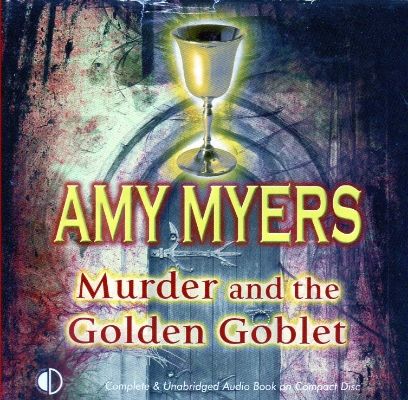 General Information


Book...............................Murder And The Golden Goblet
Series Name...................Marsh and Daughter
Series No........................04
Author............................Amy Myers alias Harriet Hudson
Narrator.........................Gordon Griffin
Abr/Unabr......................Unabridged
Genre..............................Mystery
Publisher.........................Soundings Audio
ISBN................................978-1-84559-925-6



File Information


Source...........................8 CDs
Encoder..........................Fraunhofer[FhG] A secure rip using dBpoweramp
Converted to..................64 kbit/s CBR | 44,100 Hz | Mono
Number of MP3s.............8
Total Runtime.................9 Hours Approx
Total Size........................257 MB
Ripped By........................OldScotsman
Date................................10-February-2013
ID3 Tags..........................Includes Image and all info shown on this page (Smart Phone Ready)
About The Book
Who was Lance Venyon? Curiosity over a memorial plaque leads ex-cop Peter Marsh and his daughter Georgia on a long and dangerous trail. Is it just legend, or is Arthur's golden goblet still to be found deep in the Kentish soil? And was the boating accident in which Lance Venyon was lost in 1961 an accident - or murder? As they seek to track down the truth from Venyon's former friends and associates, Marsh and his daughter walk into a maze of deception and misdirection before they reach the astounding truth at its centre.
About The Author
Amy Myers was born in Kent, England where she still lives, although she has now ventured to the far side of the Medway. For many years a director of a London publishing company, she is now a full-time writer. Married to an American, she lived for some years in Paris, where, surrounded by food, she first dreamed up her Victorian chef detective Auguste Didier. Currently she is writing her contemporary crime series starring Jack Colby, car detective, and in between his adventures continuing her Marsh & Daughter series and her Victorian chimnney sweep Tom Wasp novels.

About The Reader
Gordon Griffin has been an actor for over 40 years and performed in everything from Shakespeare to rock musicals but what impresses people most is that I am in fact one of the people telling you to Mind the Gap on London Underground!
After graduating from the Rose Bruford College, Gordon worked extensively in theatre (Shakespeare to rock musicals) television (including three seasons of Byker Grove) and film. But he is best known for his audio book recordings. He has recorded over 500 ranging from Gogol to Chris Ryan, from Thackeray to Catherine Cookson.
He has won awards for Dickens' A Tale of Two Cities, Andrew Miller's Oxygen and Paul Sussman's The Lost Army of Cambyses.
All the above information including the picture are inserted into the ID3 tags on the MP3 files.
We have uploaded these books just for you because we wish to SHARE them. It is only right therefore, you SHARE them with others, and the only way you can do this, is to keep SEEDING. In other words, don't stop after you have finished the download. Check and make sure your torrent program is set to continue uploading even after the downloading has been completed. A ratio of 2.0 means you are giving back twice what you have received, the book won't die and all our efforts have not been wasted but 5.0 would be outstanding and shows you have really entered into the spirit of what we are about. WE DO OUR BIT AND YOU DO YOUR BIT, sounds fair, doesn't it. If you are new to this and don't understand, type a message at the bottom and if I can't help, I know someone who can.

This Audiobook was ripped and uploaded by OldScotsman
Sharing Widget