---
Artist:

Phish

Format: flac - lossless
PHiSH 2015-09-06 Dick's Day 3 [FLAC24] (Size: 2.46 GB)
| | | | |
| --- | --- | --- | --- |
| | | folder.jpg | 21.39 KB |
| | | info.txt | 1.82 KB |
| | | ph150906d1_01_The_Landlady.flac | 68.86 MB |
| | | ph150906d1_02_Free.flac | 98.28 MB |
| | | ph150906d1_03_The_Moma_Dance.flac | 89.29 MB |
| | | ph150906d1_04_Seven_Below.flac | 103.94 MB |
| | | ph150906d1_05_Prince_Caspian.flac | 67.94 MB |
| | | ph150906d1_06_Backwards_Down_The_Number_Line.flac | 118.27 MB |
| | | ph150906d1_07_The_Line.flac | 72.33 MB |
| | | ph150906d1_08_Scent_Of_A_Mule.flac | 116.59 MB |
| | | ph150906d1_09_Saw_It_Again.flac | 66.63 MB |
| | | ph150906d1_10_Halfway_To_The_Moon.flac | 110.94 MB |
| | | ph150906d1_11_The_Birdwatcher.flac | 33.61 MB |
| | | ph150906d2_01_Frankenstein.flac | 72.01 MB |
| | | ph150906d2_02_Wilson.flac | 67.09 MB |
| | | ph150906d2_03_Down_With_Disease.flac | 228.66 MB |
| | | ph150906d2_04_Carini.flac | 120.18 MB |
| | | ph150906d2_05_Steam.flac | 85.49 MB |
| | | ph150906d2_06_Piper.flac | 111.64 MB |
| | | ph150906d2_07_2001.flac | 109.01 MB |
| | | ph150906d3_01_Tweezer.flac | 127.87 MB |
| | | ph150906d3_02_The_Horse.flac | 12.89 MB |
| | | ph150906d3_03_Silent_In_The_Morning.flac | 68.51 MB |
| | | ph150906d3_04_Slave_To_The_Traffic_Light.flac | 144.68 MB |
| | | ph150906d3_05_Tweezer_Reprise.flac | 43.98 MB |
| | | ph150906d3_06_Harpua.flac | 66.33 MB |
| | | ph150906d3_07_After_Midnight.flac | 51.44 MB |
| | | ph150906d3_08_NO2.flac | 32.47 MB |
| | | ph150906d3_09_Keyboard_Army.flac | 28 MB |
| | | ph150906d3_10_Your_Pet_Cat.flac | 84.65 MB |
Description
Set I:
The Landlady
5:26
Free >
7:31
The Moma Dance >
6:51
Seven Below >
8:12
Prince Caspian >
5:18
Backwards Down The Number Line
9:47
The Line
5:43
Scent Of A Mule
9:45
Saw It Again
5:12
Halfway To The Moon
8:51
The Birdwatcher
2:48
Frankenstein
5:24
Set II:
Wilson >
5:18
Down With Disease >
17:44
Carini >
9:15
Steam >
6:38
Piper >
8:33
Also Sprach Zarathustra >
8:30
Tweezer >
9:45
The Horse >
1:06
Silent In The Morning >
5:29
Slave To The Traffic Light
11:52
Encore:
Tweezer Reprise
3:25
Harpua >
5:22
After Midnight >
3:52
NO2 >
2:39
Keyboard Army >
2:33
Your Pet Cat
7:02
Once In A Lifetime >
4:24
United We Stand
4:55
This show featured several bustouts:
The Landlady (last played December 3, 1994, or 768 shows), Birdwatcher (June 28, 2012, 134 shows), Keyboard Army (December 14, 1995, 684 shows), and Once In A Lifetime (October 31, 1996, 634 shows).
Scent Of A Mule and NO2 featured Fish on Marimba Lumina.
Frankenstein featured Page on keytar.
Down With Disease and Harpua were unfinished.
Piper included a quote of Rocking Down The Highway.
Harpua included narration about Jimmy being a guy from the east coast coming west, having a breathing problem, and needing an oxygen tank (with Trey sucking from an oxygen tank). Trey then said "I wonder if I should've gotten the oxygen in the lot after the show." Harpua also contained an I Am The Walrus quote with Trey saying the Walrus was Page.
Your Pet Cat included narration from Mike about eating Poster Nutbag.
Once In A Life Time contained Harpua quotes.
This show featured the Phish debut of United We Stand.
During Harpua, Trey mentioned that people writing down the setlist would want to only count Harpua once (by doing this, the encore spelled out THANK YOU).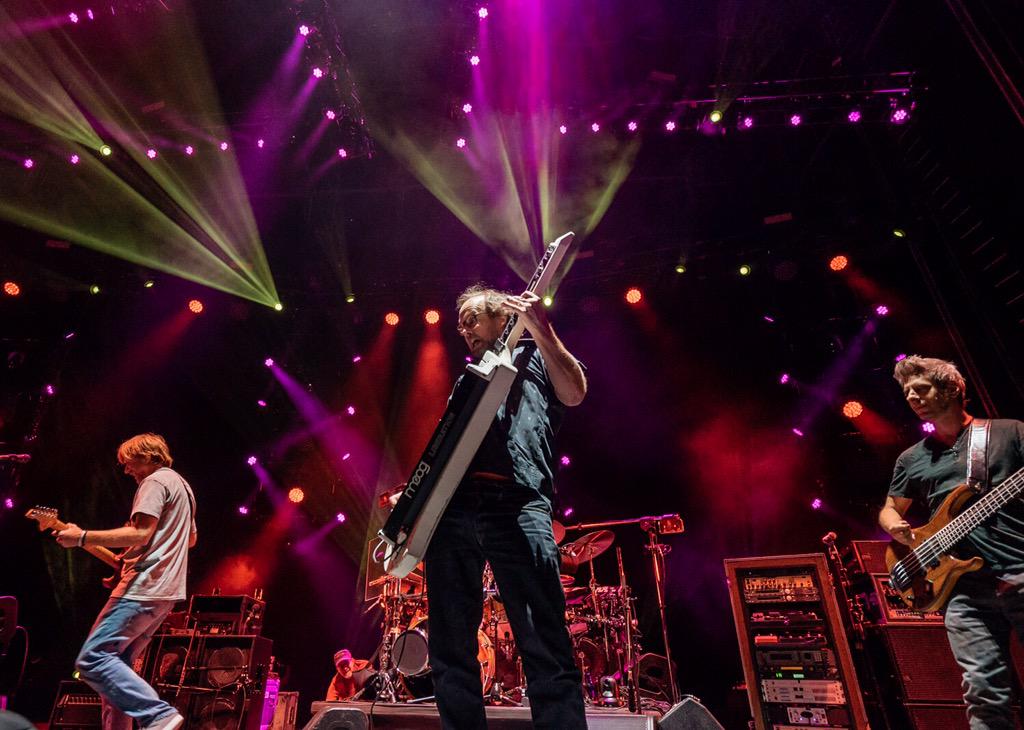 Related Torrents
| torrent name | size | seed | leech |
| --- | --- | --- | --- |
| | 312.87 MB | 1 | 1 |
| | 592.07 MB | 72 | 10 |
| | 366.36 MB | 0 | 0 |
| | 380.23 MB | 43 | 26 |
| | 2.78 MB | 39 | 4 |
Sharing Widget
All Comments